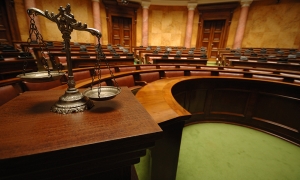 Many people in Texas and across the United States have trouble with debt and consider declaring bankruptcy. If you are struggling with debt and looking for answers, you are not alone. If you need debt relief immediately, speak at once with experienced Garland bankruptcy attorney Richard Weaver. Filing for bankruptcy can help you discharge many of your debts, stop harassment by creditors, and get you back on the path to financial freedom. For almost three decades, Richard Weaver has represented the interests of consumers both in Garland and throughout the state of Texas. We can help you with bankruptcy and help you retain your home and/or vehicles, stop creditor lawsuits, and effectively resolve your debt problems.
IS BANKRUPTCY RIGHT?
There's no single answer or approach to debt that's right for everyone. When you speak to experienced Garland bankruptcy attorney Richard Weaver, he will evaluate your financial situation and your current financial responsibilities. Then your bankruptcy lawyer will outline your alternatives. Bankruptcy will be the only solution for some consumers, but others may have additional options. Whether you file for bankruptcy, opt for private direct debt negotiation, or choose another approach, a good bankruptcy attorney will advise you and guide you through the process until your debt issue is resolved.
CALL RICHARD WEAVER
Financial challenges can be stressful, but experienced bankruptcy lawyers understand. We routinely work with clients facing financial challenges. You may have a number of bankruptcy questions, and we can provide the answers you need. Whether you are facing a home foreclosure, a vehicle repossession, medical or credit card debt, a wage garnishment, or a lawsuit from a creditor, let us help. When you call Richard Weaver at (972) 616-4444, you'll obtain the sound bankruptcy advice and guidance you need, and we will help you deal with your debts. If you're struggling financially – and losing that struggle – in the Garland area or anywhere in Texas, call without delay.
How to file Medical Bankruptcies
Filing a "medical bankruptcy" is not really very different from a traditional bankruptcy, and it technically isn't something that is defined in a concrete way. When a person refers to a medical bankruptcy case, they are referring to the fact that a person is filing as a result of their medical debts and medical problems. Typically, a person would file chapter 7 if they were looking to clean their slate after overcoming serious medical problems. In some cases, the medical and health problems persist and so a bankruptcy would not necessarily give lasting financial relief, but it could be very important in clearing the immediate financial problems.
When clients come to our law firm, we address the issues of whether they have ongoing concerns with their health and we review with them whether the timing is appropriate to file bankruptcy at this time. Sometimes the timing isn't right and it appears to be more beneficial for the client to considering putting off filing until they have gotten their medical conditions under control.
Can I File Bankruptcy on Medical Bills?
While there are specific types of debts which cannot be discharged in bankruptcy, medical debts are in a class which can be eliminated. This means that you can get a fresh start after having serious medical problems. This can be a very big relief, because medical problems bring a two-fold problem usually, in that you may be out of work, not getting the same kind of income that you were previously. Or in some circumstances, you could even be getting no income at all if you don't have any kind of short or long term disability insurance. And secondly, while you're not earning an income, you're also racking up excessive medical debt at the same time from treatments that are designed to save your life or treat or cure your condition.
Some clients will come to our law firm after getting in a serious car accident. If the other driver didn't have insurance, then you could be left holding the bag with your medical bills. Additionally, if you didn't have health insurance then you could have the entire bills. And with some accidents or health problems, even the co-pays are enough to make a person throw up their hands with exasperation.
What Does Chapter 7 Bankruptcy Cost?
When you file as a consumer, you will generally be looking at a chapter 7 or a chapter 13 case. And when looking at a chapter 7, you will generally be looking for a fresh start. Hence the investment into getting done with your case can be a valuable one. Most Garland bankruptcy law firms charge a flat fee for filing your case. This is the case with our law firm as well, although the cases do depend from case to case what the flat fee will be for the case. Additionally, our affordable law firm is known for being extremely flexible with our clients on handling the attorney fees.
So if you are looking for an affordable Garland bankruptcy attorney, you are in the right place. We will gladly set up payment arrangements and work wtih you over time without pushing you to pay faster than you are able. We work hard to take good care of our clients, and you can retain us for very little, often for as little as even $20 or $100. This retains us and allows you to refer your creditor calls over to our office immediately so that you can get relief right away, even if you are not able to pay and file the bankruptcy right up front.
Can Payday Loans Be Erased in Bankruptcy?
The answer to payday loans is not as complicated as the payday loan collectors want you to believe. The debts for payday loans are not in a protected class such as student loans. While you cannot eliminate student loans, child support, and some IRS debt, on the other hand, payday is completely dischargeable. However, there are some caveats about this. Read the following exchange between us and one of our anonymous payday loan bankruptcy clients.
One client recently asked us the following: "Hi, if i cant pay my payday loan will I go to jail for bad check writing?"
Our response to this question about payday loans and bankruptcy went as follows: It depends. Usually not! But it's hard to say without looking at the specifics. If a client is located in the Dallas area, bankruptcy may be a good option to eliminate payday loans. It just depends on how much debt you have. But frankly, it is rare for them to truly pursue fraudulent check charges. The payday lenders will say that all day, threatening you that you will go to jail for writing a bad check. I guess that's what you're experiencing right now?
Bankruptcy client response: Yes.
Our response: Yeah, you rarely would need to be concerned unless you made a habit of not paying anything at all on the payday loan. Also, it would have to be a pretty big payday loan to get the attention of the prosecutors, because the payday lenders don't have the ability to pick and choose who is charged. Thy can pursue charges, but it's not their call whether the DA goes after you for it.
Additionally, you can keep in mind that this is not legal advice and your situation could be different. For example, if you had made a habit of getting payday loans and every time you did this your check bounced and you got multiple loans without ever paying anything on the loans then this could be viewed as obtaining the loans fraudulently without the intent of ever paying the loans off. On the other hand, if you made your best efforts to pay the loans back but simply could not, then the likelihood of being charged and going to jail for not paying a payday loan is very low.